This thread is about Bill Munns' discovery that, during the filming, Roger had
stopped
the camera several times...while repositioning himself. It's a very interesting aspect to the film, that has some implications relating to 'real vs. hoax'...that Bill talks about in his Report.
Here is a link to the page of his Report, about the Camera Stops/Starts...
3.2 The Physical film
There are a total of
6
filming sequences. For this Opening Post...I'm including images relating only to the 1st Sequence.
Bill, very kindly, emailed me
higher-resolution
versions of the Frames that are used in his Report...to work with, and post here.
Thanks
, Bill..
First off...here is Bill's compilation of the 'Start' and 'Stop' Frames, throughout the Film...
Here is an excerpt from Bill's report...about the 1st Sequence...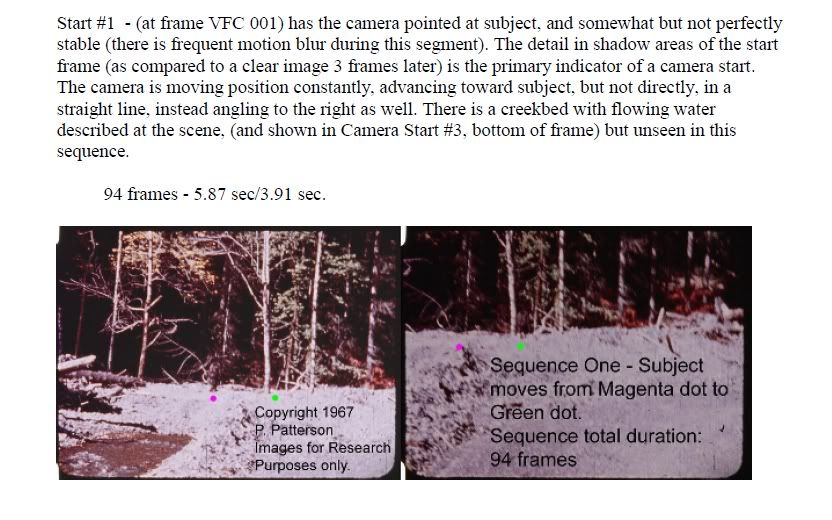 Here are the 2 Frames...(higher-resolution copies)...for the Opening sequence...
And, here is an animated-gif of the two Frames...showing the movement of Patty, and how the scenery changes, during the 'Opening Sequence' of filming...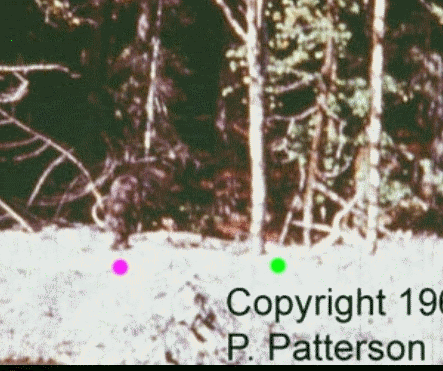 I aligned the images according to the
scene
, itself...and not the Film Frame borders...so, due to the large amount of camera movement, from the first to the last frame...only a small portion of the scene was common to both Frames...and is seen in the animation.